PhD dissertation (successfully defended in Sprig 2022) under supervision of Izabela Grabowska entitled: Reflexivity of women in their mid-life course. Sociological portraits of women as based on the case of women from Radom.
In Polish: Refleksyjność kobiet w połowie biegu życia. Portrety socjologiczne Polek na przykładzie kobiet z Radomia.
Bio: Paulina Smaszcz an expert with 20-year experience in public relations & communication & advocacy. Prepares and implements the PR & communication strategy for the largest and most valuable Polish projects in cooperation with the Ministry of Health, the Ministry of Culture and National Heritage, the Ministry of Foreign Affairs and the Ministry of Labour and Social Policy.
Currently she is a freelance researcher, trainer and mentor. She worked as a Communication and PR Director/Spokesperson at Digital Platform nc+ (CANAL+). The position of the Director covered the responsibility for the activities of the company within the scope of: corporate PR, content PR connected with thematic channels (film, sport, lifestyle, parenting, socialmedia+technology and offers) addressed to journalists and subscribers as well as potential clients, management and supervision of PR projects with media&business partners, reporting and supervisions the presence of thematic channels and the company in social media. The Director's duties also include coordination of the work of a team of employees and coordination of work of PR agencies, event agencies, an agency responsible for moderation of social media. The function of spokesperson entitles to representing the company during media interviews and public statements in the Poland and abroad and caring for good image of the management board and employees, the spokesperson is in the board of supervision department in crisis situations.
An expert in the field of business communication and business auto-presentation of NETWORK OF WOMEN ENTREPRENEUR and of POLISH BUSINESS WOMAN CONGRESS, ACTIVE WOMAN ASSOCIATION, VITAL VOICES FOUNDATION, Women@Work Harper's Bazaar, MAKE UP BUSINESS, Klub Kobiecego Biznesu Polsko-Francuskiej Izby Gospodarczej, Loża Kobiet Biznesu. She creates targeted partner programs. Expert and juror in the competition BUSINESS WOMAN OF THE YEAR. The main face of the campaign #StaćMnieNaSukces . Couch for business woman and start-up programs. Trainer for women in half of life course (workshops, lectures, interactive exercises).
A specialist in public relations & communication, journalist and TV presenter, an expert and trainer. For 15 years she has trained individual board members and top managers, politicians and medical professionals (professors, doctors, medical consultants). She prepares members of NGOs to public speaking and media presentations in Poland and on the EU forum.
With a huge positive energy and joy of life, impeccable in her behaviour, with a great sense of humour, class and emotional intelligence. By journalists she is called the VOICE OF POLISH WOMEN AFTER 40.
Publication:
Smaszcz-Kurzajewska, P., & Grabowska, I. (2018). Życie jako projekt 20 lat później. Kobiety 40+ z byłego miasta wojewódzkiego [Life as a project 20 years later. Women 40+ from post-voivodeship city]. Rocznik Lubuski, 44(1), 179-204. Download at: http://cejsh.icm.edu.pl/cejsh/element/bwmeta1.element.mhp-f8a2be7a-be6a-455e-be04-6599d957e4d7
See: https://paulinasmaszcz.com/
Sociologist, social researcher. She holds a Master's degree in Sociology (Market Research and Public Policy Analysis specialization) from the Institute of Sociology of the Jagiellonian University. She is currently a PhD Student of the Interdisciplinary Doctoral School at SWPS University of Social Sciences and Humanities. She is preparing a PhD dissertation on the impact of mobility trajectories on the socio-occupational sequences of young people. Her research interests concentrate on youth studies, career studies and mobility studies. She specializes in and conducts courses in the methodology of qualitative social research. She has published in renowned journals and publishing both international (Journal of Youth Studies, International Migration), and national (Studia Socjologiczne, Przegląd Socjologii Jakościowej, Studia Migracyjne-Przegląd Polonijny). She is a laureate of numerous scholarships from the National Science Centre (SONATA BIS, OPUS) and Rector's SWPS University scholarship.
She collaborates with the Center for Research on Social Change and Human Mobility​ (CRASH) at Kozminski University, where she is a researcher in "BigMig: Digital and non-digital traces of migrants in Big and Small Data approaches to human capacities" project (OPUS-19, National Science Center scholarship). She also works at the Institute of Social Sciences of the SWPS University, where she is involved in the Horizon 2020 research project "MIMY: Empowerment through liquid integration of migrant youth in vulnerable condition". She is also coordinator of the "INSIMO: Work (in)stability and spatial (im)mobility from the perspective of young people on the move. Impact of the Covid-19 pandemic" project funded by the PRELUDIUM-20 program of the National Science Centre.
Publications:
Winogrodzka D., Grabowska I. (2021). (Dis)ordered Social Sequences of Mobile Young Adults: Spatial, Social and Return Mobilities. Journal of Youth Studies. https://doi.org/10.1080/13676261.2020.1865526.
Winogrodzka, D., & Mleczko, I. (2019). Migracja płynna a prekaryzacja pracy. Przykłady doświadczeń zawodowych młodych migrantów z wybranych miast średniej wielkości w Polsce. Studia Migracyjne-Przegląd Polonijny, 45(1 (171)), 85-106.
Pustułka, P., Winogrodzka, D., & Buler, M. (2019). Mobilne pokolenie wyboru? Migracje międzynarodowe a płeć i role rodzinne wśród Milenialsek. Studia Migracyjne-Przegląd Polonijny, 45(4 (174)).
Winogrodzka, D., & Sarnowska, J. (2019). Tranzycyjny efekt jojo w sekwencjach społecznych młodych migrantów. Przegląd Socjologii Jakościowej, 15(4), 130-153.
Sarnowska, J., Winogrodzka, D., & Pustułka, P. (2018). The changing meanings of work among university-educated young adults from a temporal perspective. Przegląd Socjologiczny, 67(3), 111-134.
Zuzanna Michalska (MA) – holds a Master's degree in history from The Faculty of History at the University of Warsaw. Post-graduate studies in Human Resources Management in Organizations at SGH Warsaw School of Economics. She is also a graduate of The Trainers' Program at the NGO Trainers' Association.
Zuzanna has worked as a librarian, HR manager, books and documentary films (Planete, Discovery, BBC Knowledge) translator, an editor in Newsweek History Magazine and as an expert in educational programs and projects. She helps the teachers improve their skills and competences and derive pleasure and joy from their cooperation students.
Now, she is the Head of Young Explorer's Club international programme coordinated by Copernicus Science Center in Warsaw and is working on her PhD Dissertation entitled:
Models of transfer of practices developing 21st century competences, from non-formal education to formal education on the example of the Young Explorer's Club program coordinated by the Copernicus Science Center
within the Industrial Doctorate Program of the Ministry of Science and Higher Education in Poland.
JOANNA BOBROWSKA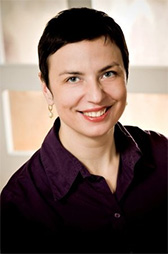 https://www.goldenline.pl/joanna-bobrowska2/
Joanna Bobrowska holds Master in Economic Sciences (University in Warsaw) and MBA (International Business University of Bristol).
Her PhD dissertation (nearing completion) under the supervision of Izabela Grabowska is devoted to:
EMPLOYEE SOCIAL INNOVATIONS IN ORGANIZATIONS IN POLAND IN THE CONTEXT OF THE COVID-19 PANDEMIC
In Polish: Pracownicze Innowacje społeczne w organizacjach w Polsce w kontekście pandemii COVID-19
Joanna Bobrowska has many years of experience in business and financial consulting. Her duties in the mBank Group and in the Raiffeisen Bank Group included preparation of valuations and business plans as well as preparation of economic and financial analyzes, as well as participation in obtaining financing on the public and private market. Joanna Bobrowska also has experience in the private equity / venture capital market and in auditing.